Keeping families close
Close to each other and the care and resources they need
We provide a warm and welcoming community of support and respite for families with seriously-ill or injured children. Services include:
Lodging
Meals
Kitchen access and fully-stocked pantries
Laundry facilities
An accredited K-12 school
Supportive, family-focused programming
Every day,
we put the needs of children and family first.
VIDEO: The House that Love Built performed by Kat Perkins. From the Ronald McDonald House Gala 2019.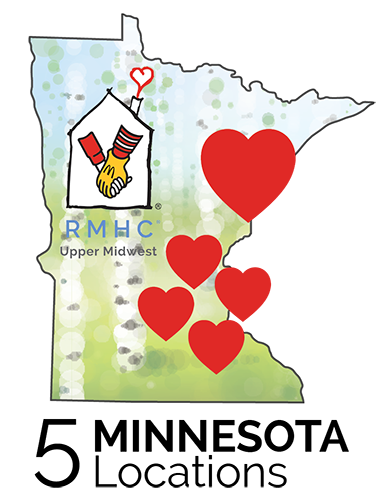 Five Minnesota Locations
Proudly offering complimentary meals and support to hundreds of family members every day as well as overnight accommodations to 76 families every night.
Ronald McDonald House on Oak Street in Minneapolis
Ronald McDonald House inside Children's Minnesota in Minneapolis
Ronald McDonald Family Room inside Gillette Children's Specialty Healthcare in St. Paul
Ronald McDonald Family Room inside Children's Minnesota in St. Paul
Ronald McDonald House Northland inside Essentia Health in Duluth
Our Hospital Partners
Providing world-class care for pediatric patients from across the state and region.
M Health Fairview University of Minnesota Masonic Children's Hospital
Gillette Children's Specialty Healthcare
Support from McDonald's
The McDonald's owner/operators of Minnesota and western Wisconsin who make up the Twin Cities Co-Op, along with McDonald's corporate offices and their supplier network, are significant fundraisers and supporters, contributing over 20% toward our annual budget through various fundraising efforts, including Round-Up for RMHC, donation boxes and the Shamrock Shake promotion. Although the McDonald's system is an important corporate partner, we rely on the support of the entire community and greatly value all financial and in-kind donations.
In-Store Canister Support
In the Press